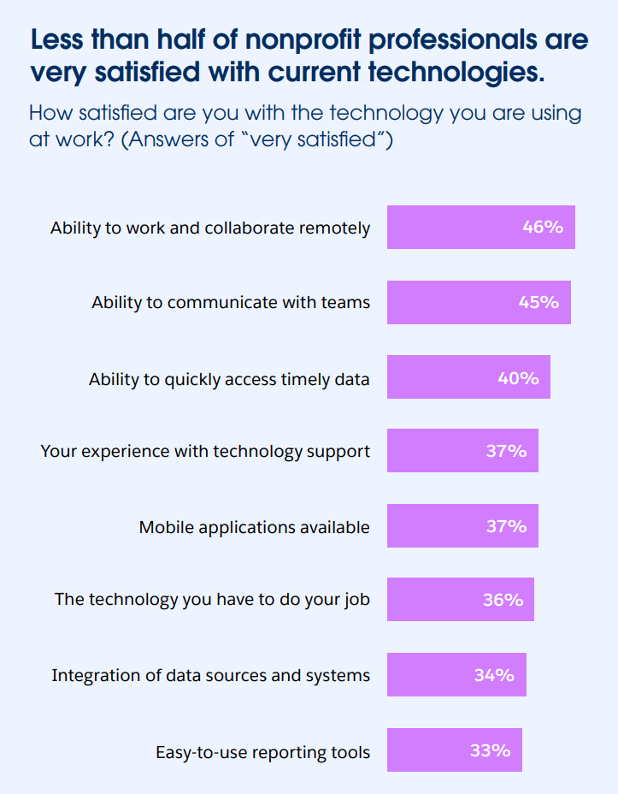 We have been working with nonprofit organizations for over 30 years. In that time, we have seen a direct correlation between organizational success and IT Operational Maturity. Satya Nadella, the CEO of Microsoft, once said, "all organizations are technology organizations." In today's world, we are all reliant on technological systems to connect with donors, partners, employees, and volunteers. We leverage technology to report on our progress toward organizational goals. Technology helps us to work anywhere there is Internet access with others wherever they may be.
Is there a segment of your organization that isn't reliant on technology to fulfill your mission?
A problem for many nonprofit organizations is that they have not made the connection between technology and results. Perhaps they think technology is a necessary evil. Perhaps they thought the money would generate a better return investing in other areas. Either way, many have not prioritized IT spending. This has led to over 50% of IT professionals feel like they have inadequate IT resources to fulfill the mission.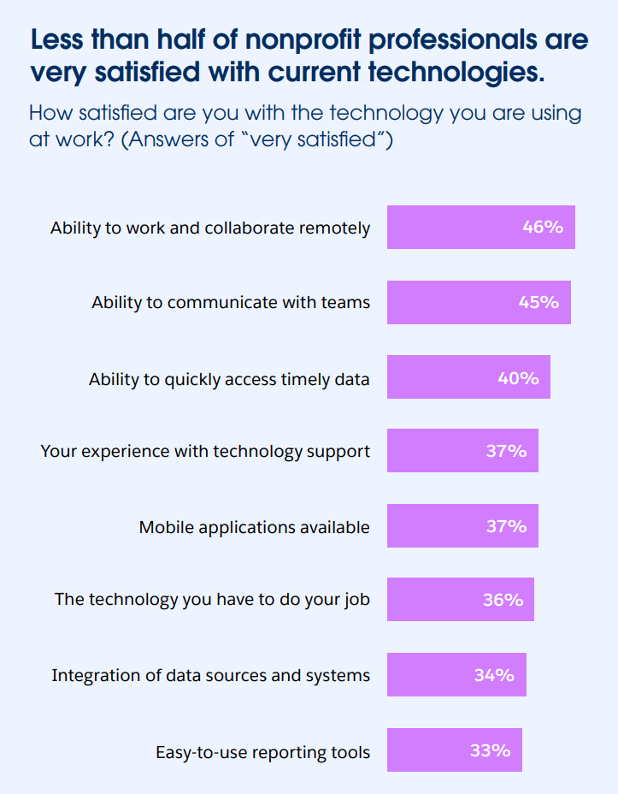 It is not just lack of spending, but it is also a lack of operational IT maturity that is impacting the performance of nonprofits. Hopefully, you see that you are not alone in recognizing that there is plenty of room for you to improve your IT Operational Maturity.
IT Operational Maturity is a scale that measures how advanced nonprofits are when it comes to technology and data. In the research for this blog, I came across 2 key studies. One was done by the customer relational management (CRM) software company, salesforce. The other is a financial software company, Sage. You can find the links to the results of these surveys at the bottom of the blog.
Let's start with what frustrates nonprofit executives the most. The results of the last 3 years are shown below. As you can see, "Lack of process automation and organizational efficiency" has topped the list for 3 consecutive years. This is directly tied to IT Operational Maturity. Do any of these resonate with you?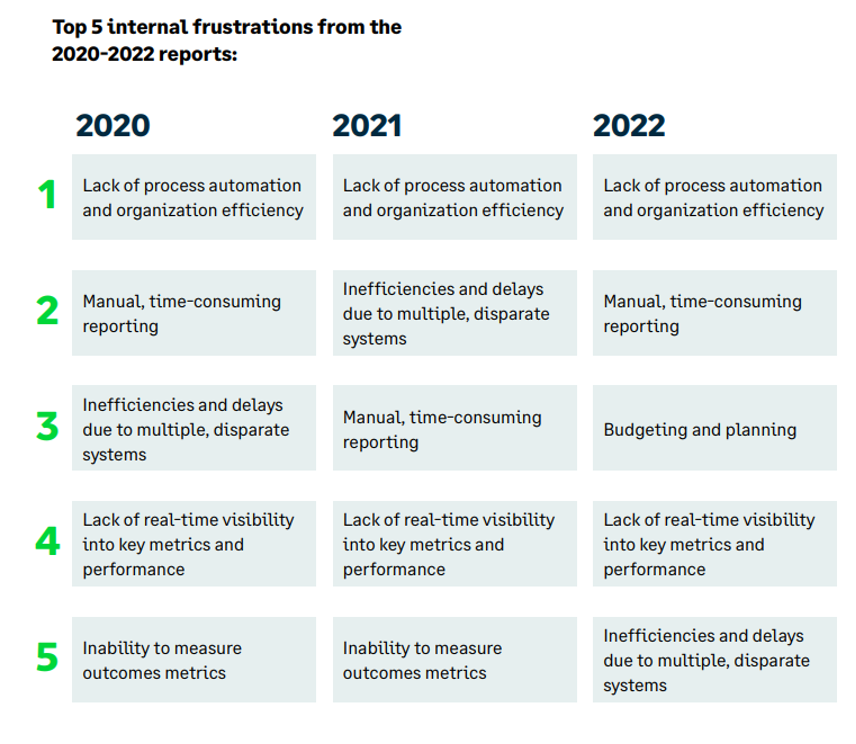 The challenging piece for most nonprofits is that they typically do NOT have IT expertise internally.  That means they are reliant on a good partner to help them.  In the words of the Salesforce survey findings,
"Many organizations are still doing things "the way they've always been done," leading to inefficient outdated systems, workarounds, and heavy paper-based processes."
Many of the nonprofits we now work with used to work with a smaller, less operationally mature IT provider, because "that's how they always done things."  That usually means that they are not getting all the proactive input, like properly securing critical data, they deserve.  They are settling, and this leads to the frustrations listed above.
It could also mean that they are NOT protecting their data and networks as well as they should.  This means that the organization is taking on more risk than it should.  Nonprofit executives often don't know what to ask when it comes to IT and cyber security.  You need an IT partner that is VERY knowledgeable about the latest developments in cyber security.  They should also be keeping you informed, so you can make educated decisions that best help you server your mission.
The graphic below shows how critical many nonprofit executives think cyber security is.  As you can see, enhancing cyber security tops the list with almost 40% of executives saying it's "highly likely" they will invest to improve this critical area.  That being the case, how do you ensure you are investing in a way that gives you the biggest bang for your buck.  You need a mature partner you can trust.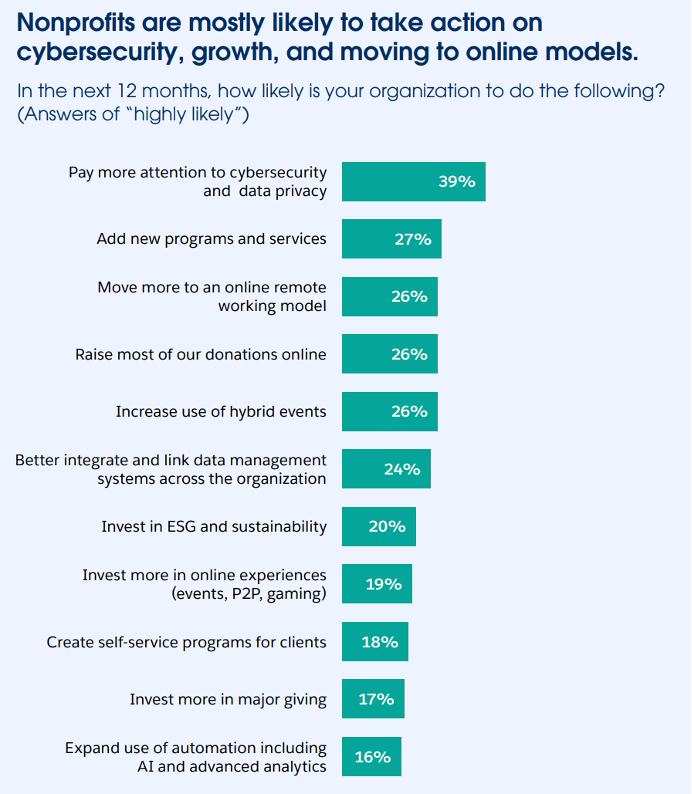 It operational maturity touches more than protecting your data. It also effects your ability to attract and retain top talent, produce the culture you want, and improve your staff's productivity. The salesforce study lists the following highlights on how IT operational maturity affects the nonprofit as a whole.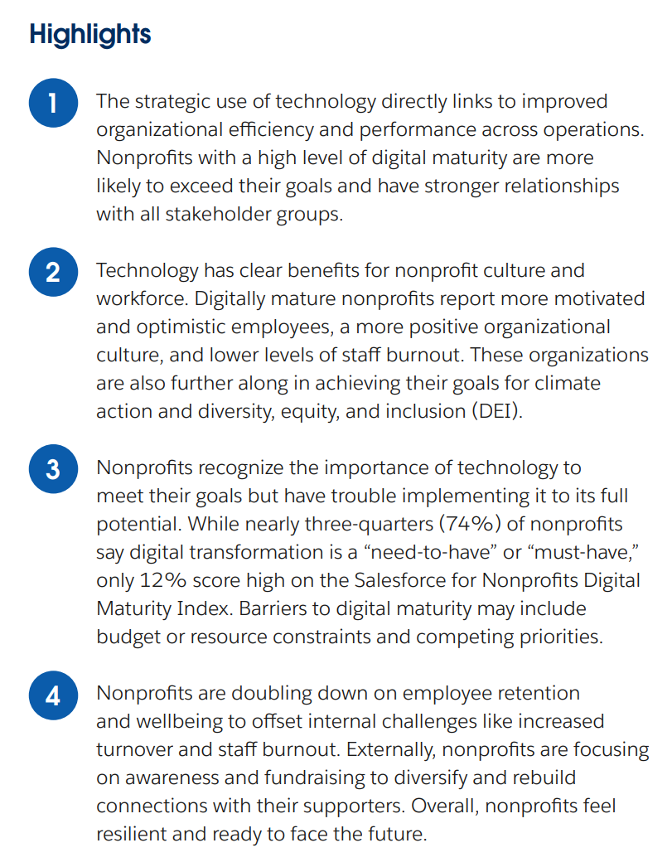 Sources:
Sage Impact 2022 Nonprofit Technology Trends Report – 2022 Nonprofit Technology Trends Report (sage.com)
salesforce 2022 5th Edition Nonprofit Trends Report – Research Report: Global Nonprofit Trends Report, 5th Edition – Salesforce.com